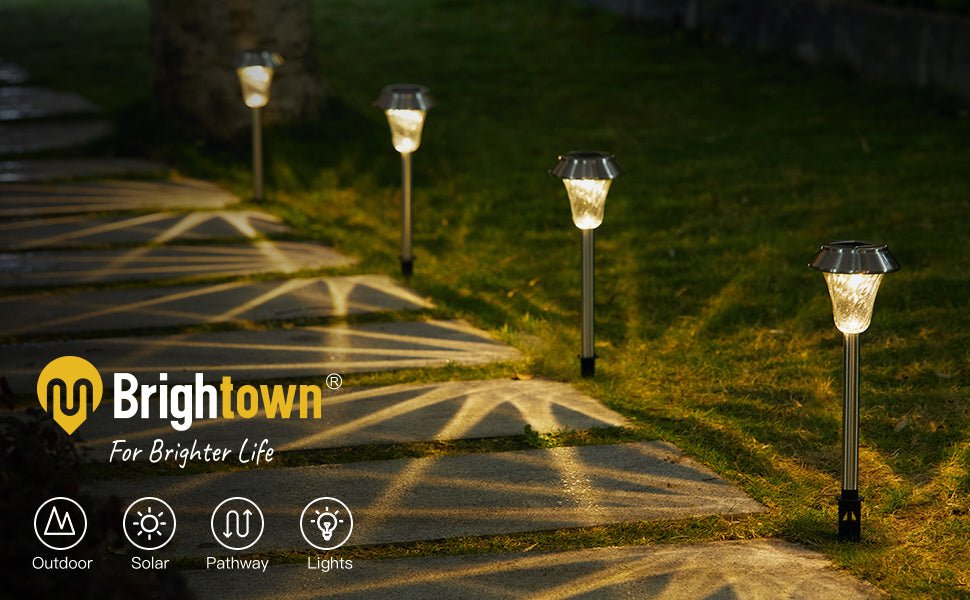 Instalation and Operation
Questions about landscape lights
Q1. How far apart should solar pathway lights be?
A. It is preferable to put solar landscape lights 6 to 8 feet apart to ensure garden pathway remains bright and well-lit. However, spacing them even closer also is an good option, particularly if you want an especially vivid lighting effect.
Q2. How many lumen should a decorative solar pathway light be?
A. 3-20 Lumen is a suitable range for decorative pathway lights.
Q3. Can these lawn solar lights be used in the cold winter?
A. Even in cold weather, the solar lights in the garden lawn pathway can be used all year round. Do not store solar lights in box or dark room without light source. This will damage the battery and reduce its ability to hold charge. For best performance, do not store them for a long time.
Q4. Will the solar lamp charge on cloudy day?
A. Even there are continuous cloudy days, most solar-powered lights provide lighting with the stored energy. If you live in a cloudy and cool area, you can still buy solar systems such as solar-powered lights for yard, walkway, garden.
Product Real Shot Renderings
Troubleshooting
Short working time
1. The battery is not fully charged. Install the solar light in an area where it can receive the maximum amount of full, direct sunlight.
2. The battery is worn out. Replace the old batteries with the fresh ones.
Not working at night
The installation location is too close to other light source. Relocate the solar light or keep it away from the other light sources.
Specifications
| | |
| --- | --- |
| Total height | 16.7 inch |
| Lampshade | glass |
| Body color | silver |
| Light color | warm white |
| Color temperature | 3000K |
| Luminous flux | 4 lumen |
| Waterproof grade | IP65 |
| Solar panel | 0.16W, 2V |
| Solar panel material | polycrystalline |
| Built in battery | 1.2V 400mAh AA Ni-MH |
| Working temperature | -4°F to 122°F |
| Working hour | 10 hour |